The Recycling Program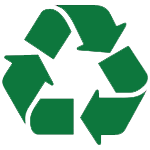 At Aethereal, we are obsessed with the environment & doing our best to do our part in keeping our planet green. Our team wanted our customers to be able to feel good about buying our products knowing they are doing their part as well as enjoying a clean-burning candle. During these tough times, we know that affordability is a must right now, that's why we've created this program to reduce waste & promote sustainability while keeping it as accessible as possible. 
What Happens to the Jar/Tin?
Did you know that glass is 100% recyclable? It can easily be repurposed without loss to quality or purity. 
Because we use top quality 100% natural soy wax, you should be able to are able to easily clean up the glasses and reuse them for the next batch of candles. This is us doing our part for the planet one jar at a time.
Why Should I Do This?
In return for less than 5 unbroken & empty, we will issue you
a $1 credit for each container
code. In return for 5 or more candle containers, we will be sending back discount code of
20% off your entire order for future use with no minimum purchase amount & a mystery item 
as a huge thank you for doing your part to keep the earth cleaner.
How to Clean Your Vessel:
Never clean a candle while it's hot.
Remove the wick(s) by pulling out the small metal circle(s) from the bottom of the jar or tin.
Soy is a soft & creamy material so it should be easily washed by leaving it soaking in soap dish water & then scrubbed.
Never put a candle container in the freezer.
Wipe off if necessary.
How Do I Return the Clean Vessels?
Return your candle jars & tins to the following mailing address:
13727 SW 152nd ST, Miami, FL, 33177, USA
Shipping costs are at the expense of the customer. 
Include a return tracking number and your order number (if applicable).
Here's How It Works:
All containers are welcome! Aethereal does not discriminate against unbroken & empty candle containers; we take all vessels from our line.
Clean out the tin as much as possible. There will be a $5 fee assessed for cleaning if jars are returned dirty so your discount will be reduced.
In order to return your jars, please fill out the form below. Once we have received your jars, we will issue you a code via email that you may enter at checkout for your future order.
YASSS! Give yourself a high-five for going green & reward yourself by claiming your FREE Wax Tart Set or a 20% off discount on your next order.
Just wait for your email with the code & once you've selected the scent you'd like, make a comment in Special Notes section at checkout.
Enjoy!
What If I Can't Return My Candle Vessel?
Don't worry, there's still hope! If you're unable to return your containers, try re-using it as a holder for...
Planting a flower
Stationery
Q-Tips
Toiletries
Spices
Spare Change
Pet Treats
Toothpaste & Toothbrushes
PRO TIP: If all else fails, you can always DIY it on Pinterest!
Terms and Conditions:
Offer is valid only for retail customers. Not applicable for wholesale or consignment vendors. The Recycling Program is applicable to only Aethereal containers. The vessel(s) and jars must be in reusable condition, without cracks or chips to the glass surface so that it can be reused for a new candle. Shipping costs are at the expense of the customer.